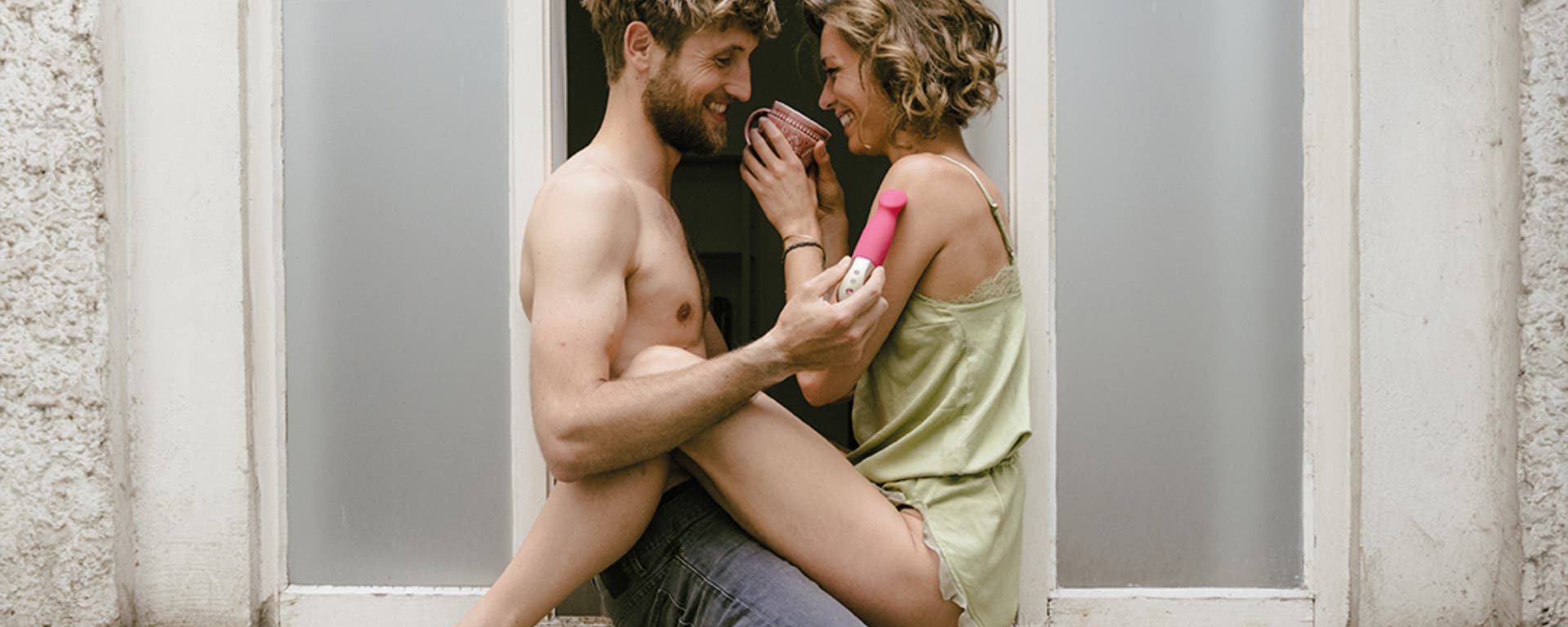 Vibrator - Everything you need to know
Vibrator comes from "vibrare" (lat. to fling, swing, tremble) and provides many women with intense climaxes. Learn everything about the vibrator in general and discover explanations of the different types available for purchase at Amorana online sex store.
Vibrator - idea and origin
The vibrator is an electromechanical sex toy. An electric motor makes it vibrate. The vibrations are extremely stimulating and there are quite a few women who experience their first orgasm with a vibrator. Vibrators were originally developed by doctors towards the end of the 19th century to treat so-called "female hysteria". Today, vibrators are mainly used as sex toys for masturbation and also during partnered lovemaking.
Structure and function of the vibrator
Vibrators stimulate in a way that cannot be achieved by manual stimulation (by finger or with a dildo, for example). The vibrations, whose speed and strength can be varied in almost all models, are particularly suitable for stimulating erogenous zones such as the clitoris, vagina or anus. Many women find it difficult to reach orgasm through normal sexual intercourse, which is why the vibrator is increasingly (and not only) found in bedrooms as an effective love toy.
Differentiating features of vibrators
Basically, vibrators differ on the basis of the six features below. So, depending on your preferences and tastes, you can choose the perfect one for you.
Size
From mini to large, there is everything to be found in the vibrator universe. When choosing the right size, you should be guided by your previous experience as well as your preferences. Basically, we advise sex toy beginners to start with smaller vibrators and work their way up to larger ones if needed. Small vibrators are also great for taking with you on trips, for example.
Color
The color selection is huge. Whether pink, purple or nude - only your taste counts here!
Stimulation type
As already mentioned, there are several erogenous zones that can be stimulated. With vibrators, vaginal, clitoral and anal stimulation are particularly suitable. Choose the type of stimulation that triggers the greatest excitement and pleasure for you. Do you have little or no experience and are not sure what turns you on? Then we recommend you to buy different toys, which have different stimulations. This way you can test what gives you the most satisfaction.
Water resistance
There are vibrators that are not waterproof and those that are completely waterproof. The non-waterproof vibrators are great to use in the bedroom. A waterproof vibrator is especially good for women who like to pleasure themselves in the bathtub.
Vibration levels
How many vibration levels a vibrator has can be a decisive feature for some. Again, it's up to your opinion. Some like it simple, with only one vibration level. Others need variety and therefore want to have a vibrator with multiple vibration levels.
Vibrator types and differences
Vibrators come in an almost endless variety. Since they are suitable for different applications, we have compiled a selection for you below.
Special vibrator
Our extravagant vibrators are something very special. No special vibrator is like the other! You'll quickly realize that, especially when you take a look at the Womanizer Premium (which belongs to the lay-on vibrators and you'll learn more about it in the next paragraph) or the Sqweel 2, for example. The Womanizer Premium provides clitoral stimulation with pressure waves and Sqweel 2 simulates realistic oral sex. The Her Ultimate Pleasure also provides realistic stimulation with the exciting tongue sensation. These crazy sex toys are guaranteed to bring a breath of fresh air to your bed!
Lay-on vibrator
As the name lay-on vibrator suggests, these vibrators are laid on and are ideal for stimulating the external sex organs (clitoris, labia, testicles, etc.) and other erogenous zones like nipples and inner thighs. Many models can also be used very well for full body and partner massage, such as Ora 2 by LELO. Due to their size and shape, they are limited to not suitable for internal vaginal or anal stimulation. Lay-on vibrators also come in a wide variety of shapes. You can find an exclusive selection, including the bestselling Womanizer, at Amorana.
Mini Vibrator
Mini vibrators are very discreet sex toys due to their size. Some look like a lipstick at first glance, such as the LELO Mia 2, and so can be carried perfectly camouflaged in your handbag. Don't be fooled by their small dimensions, though: Mini vibrators are made of harder materials and impress with relatively strong vibrations. They are excellent for stimulating the vulva (clitoris, labia and mons veneris). Also as a mini but mainly discreet vibrator counts the Panty Vibe. You wear it secretly in your panties and thanks to the remote control you can start your lustful game at any time.
Classic vibrator
Classic vibrators are versatile and belong in every bedroom! Thanks to the slim shape, internal vaginal and anal stimulation is possible, as well as external application. Classic vibrators are always good for a surprise, such as the Jelly Boy by Marc Dorcel, which has already found many girlfriends with its realistic design. From simple to original - here you are guaranteed to find a suitable companion for you.
G-spot vibrator
G-spot vibrators stimulate the Gräfenberg point and can lead to intense, very deeply felt orgasms. The curved tip of the vibrator makes it very easy to reach this point, which is located about 5 cm deep in the vagina (front, towards the belly). Some G-spot vibrators, such as the Perfect Lover from Happy Love, also massage the clitoris at the same time thanks to another arm.
Rabbit vibrator
If you like vaginal and clitoral stimulation at the same time, it's best to reach for the Rabbit Vibrator. Once the vibrator is inserted, the additional small "ears" or the small arm on the shaft touch the clitoris and gently massage it. Some models even have multiple motors (e.g. Greedy Girl) for an even more intense feeling.
Couple vibrator
Couple vibrators are characterized by the fact that both partners can enjoy the vibrations during lovemaking. In addition to overlay vibrators, which are suitable for mutual massage, there are special models such as the LELO Noa, which can be worn during sexual intercourse. In doing so, these vibrators stimulate both the clitoris and the G-spot of the woman, as well as the man's member.
Wand vibrator
Wand vibrators provide external stimulation. It massages the clitoris with its vibrations. However, a wand vibrator can be used just as well for massaging the whole body. After a tiring day, you can just enjoy yourself with a wand vibrator such as the Europe Magic Wand.
Vibro Eggs
If you're looking for a small, handy vibrator, the Vibro Egg is just the thing. As the name suggests, it resembles the shape of an egg. Many of these eggs come with retractable straps, making them easy to use. With make is also a remote control, which makes the game more exciting, especially for your partner. For sex toy beginners, the small vibrators are particularly suitable.
Vibrator with remote control
This type of vibrators is extremely attractive, especially for couples. First of all, they usually look very extravagant and stylish, and secondly, they give your love life a whole new kick. With a vibrator with remote control, one of the two can give up control. Because the one with the remote control also has the power to decide about the seductive vibrations.
Anal vibrator
The structure, handling and vibration intensity play just as big a role in an anal vibrator as the toy size. There are a variety of different models. For the first experiences, rather slim and smaller anal vibrators are suitable. To keep the whole thing as clean as possible, you should clean yourself with an anal shower before use and of course do not forget the anal lubricant.
Pulsator
A pulsator is an innovative, attractive and somewhat different vibrator. Instead of vibrating, it pulsates you to unexpected climaxes. The pulsating movements are guaranteed to bring new rhythm to your love life. Fun Factory has great pulsators! It's best to browse right here.
Finger vibrator
This is a very small vibrator, unlike classic vibrators. During masturbation, it complements the hand job with powerful vibrations. A finger vibrator is usually attached to a ring (like the Ignite) so you can attach it to your hand. Especially for clitoral stimulation, the finger vibrator is perfect. Moreover, it is very suitable for erotic massages or tingling foreplay (like the Magic Finger with extra nubs), which involves a lot of passionate touches.
We hope this article gave you some clarity on the subject of vibrators. After all, no one can tell you what suits you best - except yourself. So: The proof of the pudding is in the eating! ;)