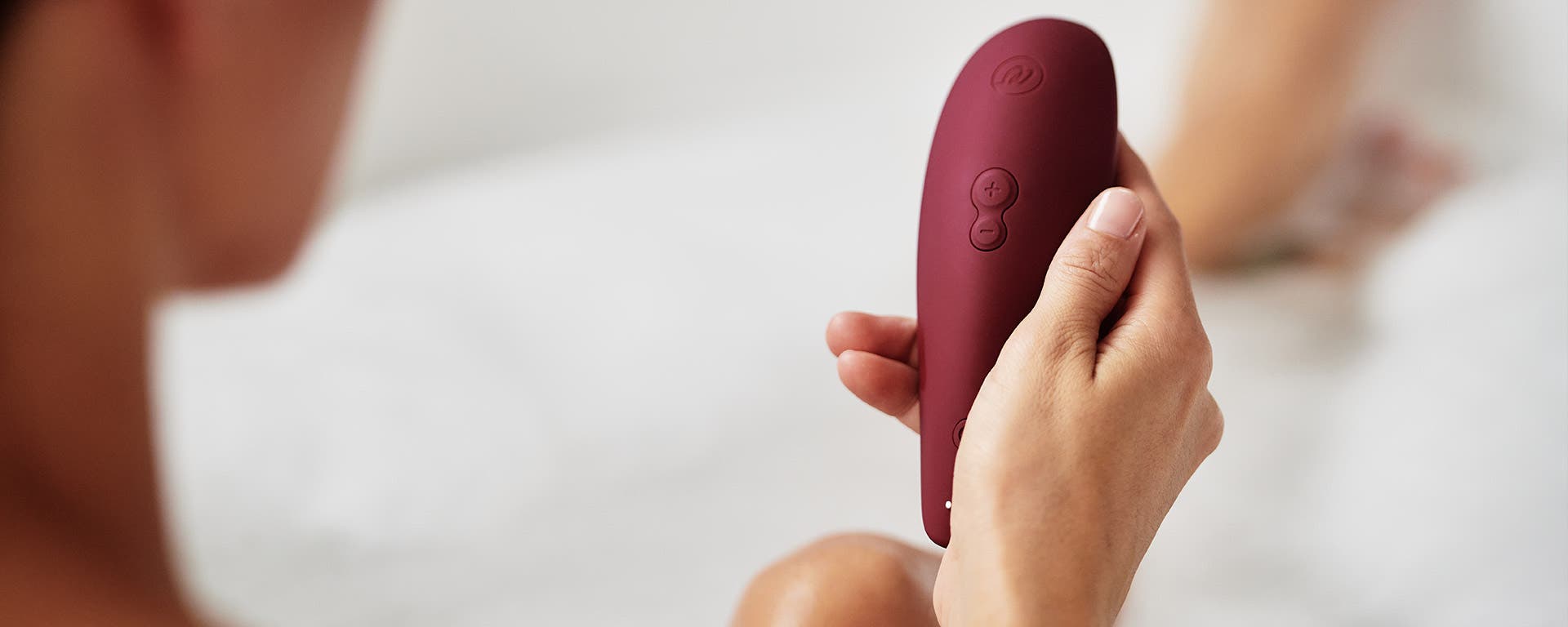 Womanizer: The 2nd generation in the test
The Womanizer toys give great clitoral orgasms and make our me-time even more beautiful. They are considered best-selling toys and deliver the complete pampering program. Is it even possible to improve on that? If the manufacturer has its way, it is: with the new Classic 2 and Premium 2 models, a fresh generation is now available.
The new versions also massage the clitoris with air vibrations, but have more going for them than the originals. What can the new editions do - and do they actually beat their predecessors? In this test, I take a closer look at the two toys and tell you what's new.
Info about the Womanizer Classic 2 & Premium 2
Womanizer Classic 2
Features: Afterglow, Pleasure Air technology, Smart Silence, waterproof.

Intensity levels: 10

Volume: whisper quiet

Charging: via USB charging cable, included (power supply not included)

Charging time: 120 minutes

Running time: 180 minutes

Dimensions: 14.8 cm x 4.8 cm x 3.5 cm

Weight: 110

Material: silicone

Packaging: made of 41% less plastic than its predecessor

Colors: 2 new ones, black and bordeaux
Womanizer Premium 2
Features: Autopilot 2.0, Smart Silence, Pleasure Air technology, waterproof

Intensity levels: 14

Volume: whisper quiet

Charging: via USB charging cable, included (power supply not included)

Charging time: 120 minutes

Running time: 240 minutes

Dimensions: 15.5 cm x 5.0 cm x 3.5 cm

Weight: 135 g

Material: silicone

Packaging: with 41% less plastic than its predecessor

Colors: 5 in total, including the 2 new ones gray and bordeaux
How do I receive the toy?
The test starts with the postman delivering the order to me. Amorana sends the packages discreetly, so it is not visible from the outside where I ordered. The two Womanizen arrive at my door in packaging with a classy design in shades of red and pink, included in the box is a USB charging cable, a thin instruction manual, an additional stimulation attachment and a soft bag for storage.
First impression of the toy
There's no second chance for first impressions - fortunately, both Womanizer models do everything right from the start of the test. Both Womanizers feel good in the hand and the velvety surface feels high quality. I am surprised that the Womanizers are lighter than I expected. I hardly notice a smell. The toys have a minimalist design and are self-explanatory: there is an on and off button and a slider to control the intensity levels. The Womanizer Premium 2 also has a button for the Autopilot 2.0 mode.
The Womanizer toys work via air vibrations - the manufacturer calls this Pleasure Air technology. This is supposed to stimulate the clitoris virtually without contact. I can not really imagine that yet, whether that really works?
I also learn what's new with these versions: they each have two more intensity levels than their predecessors, the Premium 2 also has a new Autopilot 2.0, and the Classic 2's afterglow feature makes me curious.
First tests with the toy
Before trying it out for the first time during my solo session, I try the attachment on my hand to get a feel for the Toy. There is indeed a slight sucking sensation and I am curious how it will feel on the vulva.
That two attachments are available, I find sympathetic, so different body shapes are taken into account. I choose the attachment that feels best to me, so that the clitoris is perfectly enclosed.
Here we go: On a low setting, I try out how the air vibrations feel and how my body reacts to them. After a short time, pleasant, pulsating waves spread out, making me want more. The stimulation can be intuitively adjusted to my desire and delayed until I reach orgasm after just a few minutes.
Verdict after several experiences
After a few solo sessions, I can say that I was especially thrilled with the Classic 2's afterglow feature: This simple idea was super helpful in not being overly stimulated during climax. I'll explain more about this below.
At this point, it's worth trying out the different intensity levels on both versions - that's how I found new ways to climax (the same goes for the Autopilot 2.0 mode, by the way). In the process, I discovered how the Toy turns me on best and what doesn't work for me. It was especially helpful when experimenting that the new models have more intensity levels. This makes the transitions smoother, and I found it easier to stay in the mood.
Especially horny functions
The massage with the Pleasure Air technology is unique and difficult to describe, it is an exciting feeling, which is definitely hot and fun. The fact that the toy only starts when it touches the skin and is relatively quiet even then proved handy in my test, allowing you to really let yourself go without any distracting background noise.
Autopilot 2.0 on the Premium 2
The highlight on the Womanizer Premium 2: Autopilot takes the reins and you can lean back completely. What's new about the 2 version is that you can choose between a gentle, medium or intense mode. I can tell which mode I'm in by the pulsing of the LED indicator - making it super easy to use the Womanizer.
In my experience, giving up control can be quite exciting if you can get into it. It takes a bit of getting used to in the beginning to really be able to turn your head off. So don't put yourself under pressure!
Afterglow with the Classic 2
The Womanizer Classic 2 has the Afterglow feature, which is supposed to prevent overstimulation during orgasm: If you press the button once briefly, the toy switches directly to the lowest level, so the climax sounds nice. In my experience, a super feature, so no orgasm breaks off because of too much stimulation and you can enjoy the solo session to the fullest.
What you have to keep in mind
Both Womanizer toys are easy to use, there is little to pay attention to. As with any toy, it takes a moment at first to get used to the stimulation sensation and warm up to it. However, that went quickly in my Womanizer test, because the toy makes it easy to rediscover your own pleasure.
Cleaning is also quickly done, the silicone attachment can be easily removed. Afterwards, I used a toy cleaner, but you could also just rinse the Womanizer with warm water and some mild soap.
My conclusion and recommendation
Conclusion
Both the Womanizer Classic 2 and Premium 2 thrilled me in the test with their sophisticated features. Variety and change are important to me: the wide range of intensity levels means I never get bored and it's exciting to try out different vibes every time.
The functions like Autopilot 2 and Afterglow are well designed and raise the toys to a higher level compared to their predecessors. Of course, it would be great if both functions were available in the same Womanizer toy - who knows what the future will bring!
+ Intense orgasms in a short time
+ More options with Afterglow and Autopilot 2.0
+ Wide range of stimulation levels
- The absolute utopia would be if the two features Afterglow and Autopilot 2.0 were available in the same toy.
Who is the Womanizer suitable for?
If you're in the mood for intense orgasms, the Womanizer is definitely for you. I like that the Classic 2 and Premium 2 focus on clitoral stimulation (here's a reminder: penetration can be great, but it's not always the ultimate. Clits for the win!). What I find great about the toy is that you can rediscover it again and again without getting used to it.
I would recommend the Womanizer Classic 2 especially to those who are quickly overstimulated - the Afterglow feature addresses the need to take it down a notch during climax, so that you can fully enjoy the orgasm and it is not interrupted.
What I like about the Premium 2: I can completely let myself go through the Autopilot 2.0 mode. It can be adjusted to my mood of the day, and I can choose a mode that surprises me again and again in the best way. This is especially great for people who often get bored of a Toy.
In summary, I would definitely recommend the Womanizer Classic 2 and Premium 2 to my girlfriends. Which one suits them and their needs better, they know best - in any case, I'm pretty sure that they would also be thrilled by the flights of fancy...