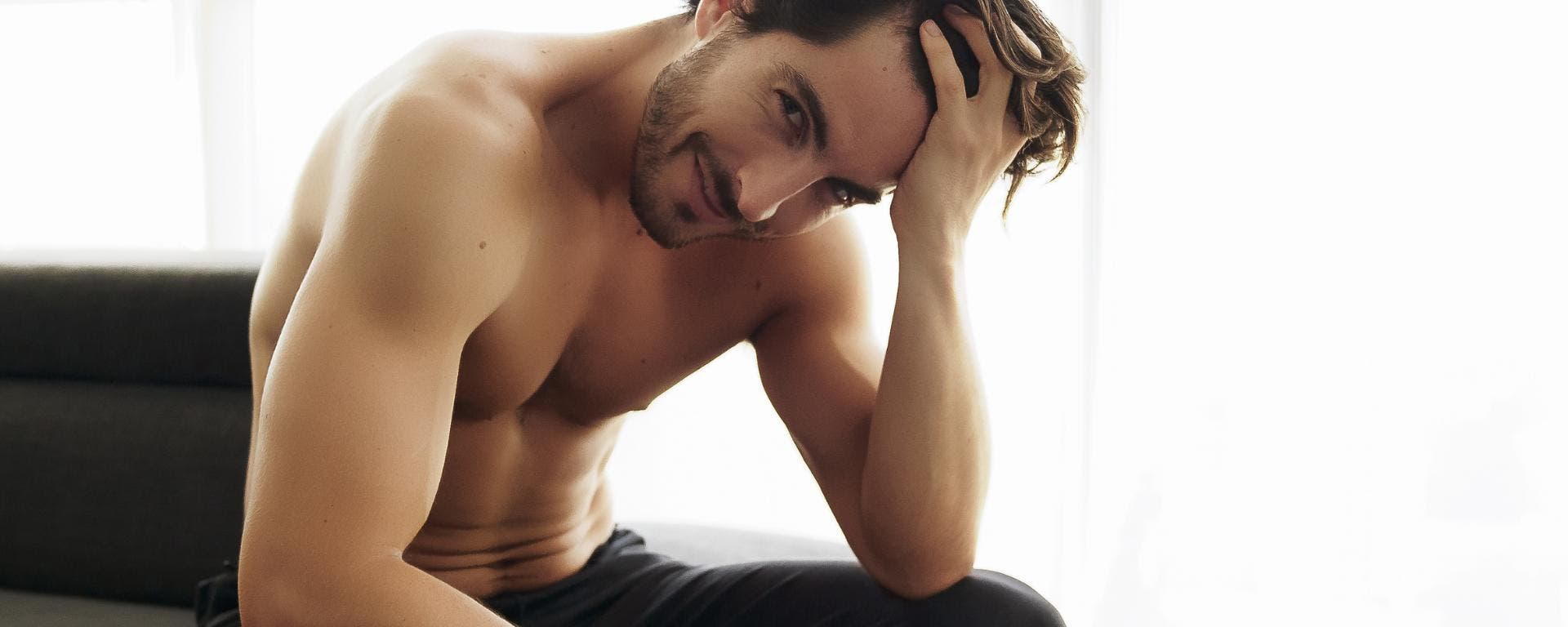 The hottest men's toys in comparison
Rubber dolls and other grubby toys have long ceased to dominate our market of high-quality men's toys. Although they come across as modern and stylish nowadays, sex toys are often still a taboo among men. Sex toys for men are rarely seen in commercials, but thousands regularly search for "sex toys for men" on Google. Time, therefore, to devote ourselves to the most popular sex toys for men.
The best pleasure bringers for men
Masturbators are particularly popular for male stimulation. Four models in particular are considered the frontrunners in 2021. They are as diverse in their design as they are in their functionality. We tested the Orctan, Arcwave Ion, Autoblow AI and Blow Job. These sex toys for men provide intense orgasms especially during solo sex.
Whether technology, intensity, feeling or design - depending on what is important to men, the following chart will help you with the agony of choice.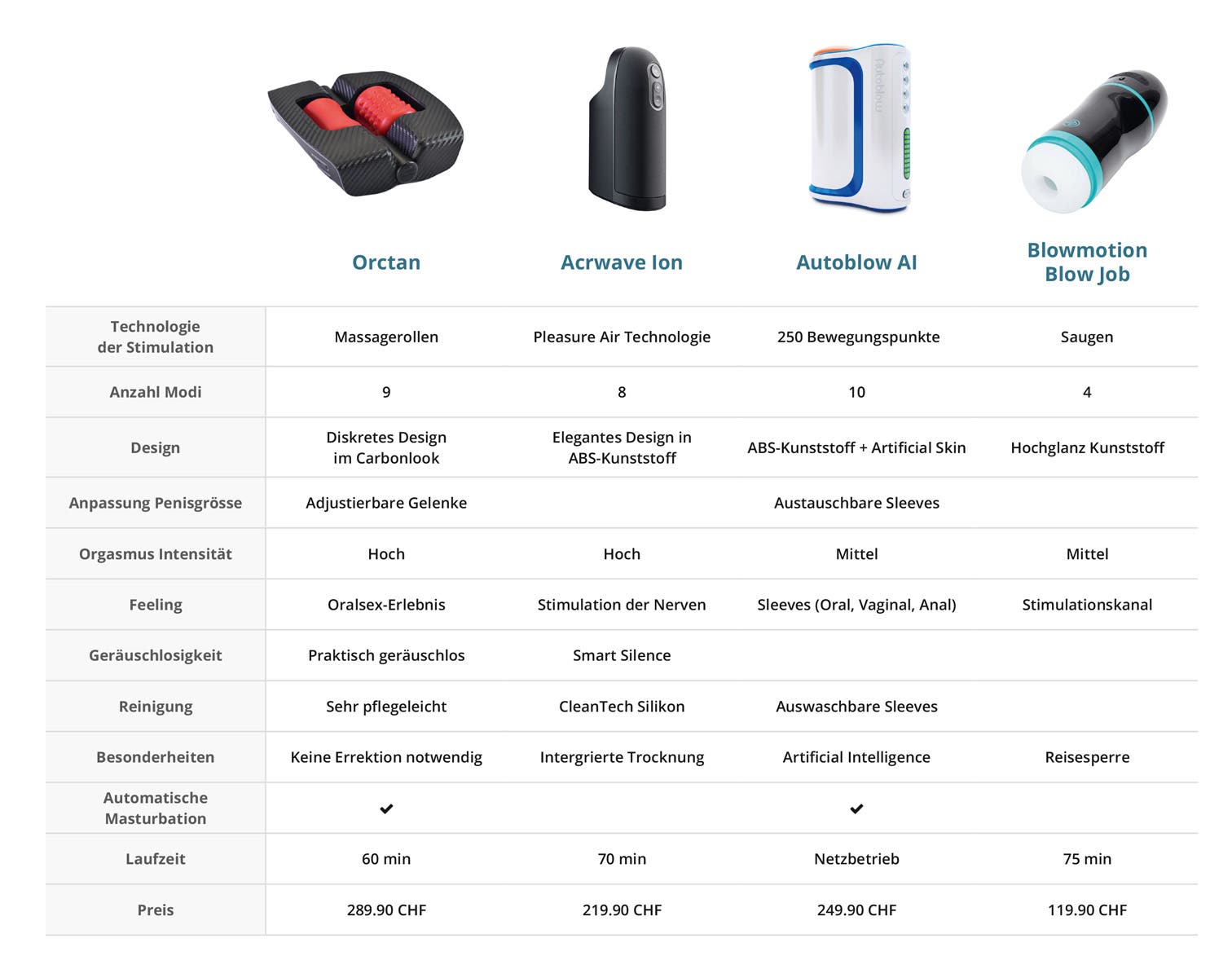 Realistic oral sex feeling thanks to massage technology: Orctann?
The look of a game controller, the feel of a blowjob. Orctan was developed by the inventor of the world-famous Womanizer vibrator and convinces with a revolutionary massage technology. Two massage rollers - one with a smooth texture, the other with nubs - take care of your best piece by being powered by digitally controlled motors. Orctan offers the most realistic oral sex feeling possible through technology; get comfortable in your favorite position and let the toy of the future take you into the world of the most intense orgasms.
This convinces: massage roller technology, high orgasm intensity, oral sex experience, virtually noiseless and easy to clean.
All-round pampering package through pleasurable pressure waves: Arcwave Ion
Arcwave Ion is the first masturbator that works with Pleasure Air technology to provide unique stimulation. And its design is just as unique: the shape is designed so that your best piece is inserted into the toy. There is no up/down movement, as is the case with most pleasure tunnels. With the Arcwave Ion, your entire penis is pampered and thanks to the hole under your perineum, your nerve endings are additionally stimulated with pleasurable pressure waves. The feeling is a mixture of vibration and intense sucking.
This convinces: Pleasure Air technology, high orgasm intensity, stimulation of the nerve endings, integrated drying.
Unique stimulation using artificial intelligence: Autoblow AI.
The Autoblow AI is one of the most popular sex toys for men. Especially those with an affinity for technology can hardly cease to be amazed by this model. Because this fully automatic machine for blowjobs has so much up its sleeve! Its secret: artificial intelligence. As the name Autoblow AI reveals, this innovative masturbator works with Pleasure AI technology. This Artificial Intelligence has analyzed more than 100 hours of blowjob videos and adapted every trick and movement. That's why this toy offers you a stimulation in a class of its own! Inside is a penis device that provides up and down movements. A sensor thereby moves the penis holder to an incredible 250 movement positions. The functions of this scientific wonder toy are numerous. So you can enjoy a deepthroat or delay the orgasms with the pause button.
This convinces: 250 movement points, artificial intelligence and interchangeable sleeves (oral, vaginal and anal).
Classically good stimulation with the pleasure tunnel: Blowmotion Blow Job
Speaking of the pleasure tunnel: If you like a classic design, you will like this masturbator. Since the sex toy is waterproof, you can easily take it with you in the shower. You can penetrate your best piece, along the ribbed channel, to a depth of 12.5 cm, which completely surrounds your glans and brings you to wonderful orgasms. Blow Job has three suction functions and four vibration modes, so you can be sure of an exciting stimulation experience! If you like it even more realistic, you should generously use water-based lubricant, so it's twice as fun.
This convinces: suction power, four strong vibration modes and waterproofness.