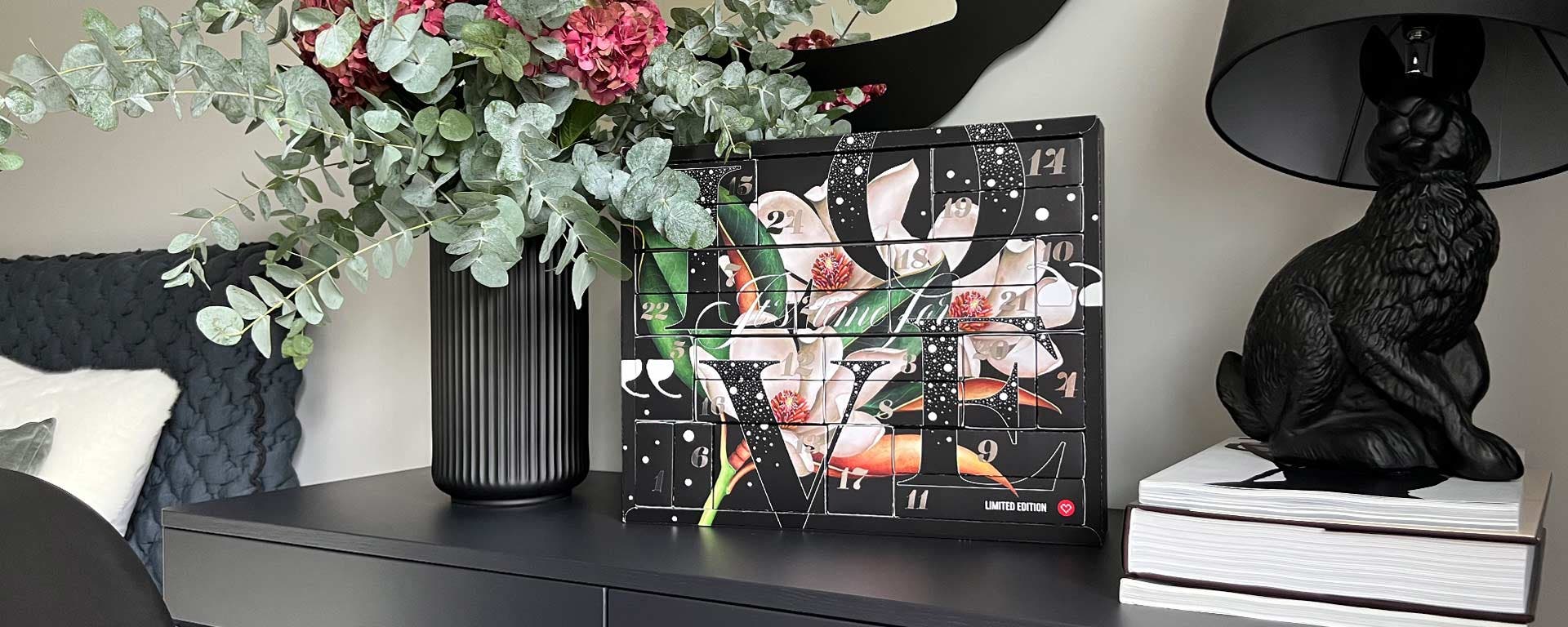 The Amorana Advent Calendar - Erotic surprises for an exciting winter time
For the Advent season, we take on one thing above all: Do something good for yourself at the end of the year, treat yourself to something nice - maybe even try something new in your sex life?
The advent calendars from Amorana provide new impulses for the bedroom on 24 days. We take a closer look at the three versions Classic, Premium and Deluxe.
What does the Amorana Advent Calendar 2022 contain?
For the Advent season, we take on one thing above all: Do something good for yourself at the end of the year, treat yourself to something nice – maybe even try something new in your sex life?
The Advent calendars from Amorana provide new impulses for the bedroom on 24 days. We take a closer look at the three versions Classic, Premium and Deluxe and give you an insight into the toys that await you.
Contents of the Amorana Advent Calendar Classic 2022
1. Boogie
Small but mighty! This bullet vibrator kicks off the Advent season by bringing you to orgasm in record time. With 3 intensity levels and 7 vibration modes, the vibrator nestles comfortably against your clitoris. As a tip: You can also use it to stimulate other pleasure points such as the nipples, neck and anus and enjoy deep vibrations.
2. Sweet Lovin'
This finger sleeve is a silicone attachment for the Bullet vibrator that you can use to pamper your own erogenous zones or those of your date. And if you like it multifunctional: the attachment can also be used as a thimble, for example when crocheting.
3. Olé, Olé, Aloe...
Water-based lubricant gel not only ensures smooth insertion, this medical gel also protects your toys. Because if they come into contact with the acidic vaginal environment, they can be damaged. The aloe gel works like a protective film and keeps the silicone nice and supple. Give it a try!
4. Go Gentle
Nipple clamps can be great hot – even before sex. A hot dinner date with a flash or two of clamps under your shirt will boost your anticipation. Best of all, the sliding metal rings allow you to wear them without pinching and clamping, so you can fully enjoy the tingling sensation.
5. Positions
Fancy some inspiration for new sex positions? With these cards you can make your erotic hours together even more exciting – or make an exciting game out of it, who should draw the next card...
6. Textured
This Blowjob Stroker gives your masturbation or handjobs a hot kick. Our tip: Use plenty of water-based lubricant to make the experience even more exciting.
7. Love Hurts
This rather small paddle is super practical and the perfect introduction to BDSM practices: With it, you can always be close to your partner and use your free hand for stroking, for example. Hot!
8. LS Amazing
A massage candle is a great way to spend some romantic time together, or you can treat yourself to some me-time: how about an evening in the bath, first enjoying the candlelight and then caring for your skin with the oil?
9. Heartbreaker
Want to get in the mood for sex with a gentle vibrating massage? Put the slightly curved add-on on the Bullet Vibrator and slowly feel your way up your legs with the lowest setting – you can experiment with the intensity levels. Slowly make your way to the vulva until you include it in your massage.
10. Never Too Much
This set of 3 penis rings in different sizes can help delay climax longer and make erections harder. You can use the rings individually or combine them – try what feels good for you. Psst: The rings are extra thick and also feel stimulating on the clitoris during sex.
11. Mr. Popper
To enjoy your sex toys for a long time, you should take good care of them. This includes a suitable cleaning agent: Cleaner keeps your toys clean, it does not contain alcohol and is therefore also compatible with sensitive skin.
12. Warm-Up
You can seduce each other with a massage oil: You can get into the mood for a sensual experience together and ensure a nourishing effect on the skin. This oil with a heat effect makes it particularly sensual.
13. Lost In Her
Just like in rom-coms, this bodysuit under a parka will be a hot outfit to ring your date's bell. Or you can combine it with cool jeans for the club – one thing's for sure: you'll be the centre of attention.
14. Sweet Dreams
Blindfolds can sharpen the senses during sex – we perceive everything more intensely and it becomes extra exciting where you feel the next touch. Maybe the seduction starts at a romantic dinner where you put on the blindfold and get fed?
15. Excite
Strong pelvic floor muscles help you experience deep orgasms. Excite balls help you train this region with short workouts.
16. Crystal Delights + Glory Holes
Butt plugs can provide tingling stimulation – they can also be used for headaches: They target tensions and you can massage trigger points with them. The punctual contact surface provides a long-lasting and deep acupressure that has a relaxing effect. As a preventive measure, you can massage and relax areas of the body that are easily tense with water-soluble lubricant gel.
17. Love Me Better
A cock ring gently stagnates the blood flow and helps the penis to become harder. Combined with the bullet vibrator, the toy is a real win-win situation. It combines two toys and offers countless possibilities from couple and solo toy to massage assistant during anal sex.
18. World of Rules
Handcuffs can be attractive during sex – but sometimes they are too hard. If you want a softer material, satin cuffs are a good choice. They have a cooling effect and are easy to remove without a key.
19. Handjob
With this handjob, you can make your solo session even more exciting: The textured inside gives you a new stimulation sensation that will catapult you to climax.
20. Sexylicious
This bath bomb turns you on: it contains pheromones that stimulate you erotically. If you treat yourself to a bath before sex, you'll care for your skin with coconut oil and cocoa butter – and be in the best mood for an exciting night.
21. Grooves
This mini vibrator hits the G-spot unerringly: so you can discover how this form of stimulation feels to you and what turns you on. By the way, it's also suitable for prostate massage – an all-rounder!
22. Secrets
To keep your toy in top condition for a long time, a storage bag is a good idea. This allows you to store it discreetly and hygienically, and the charger and lubricant also fit neatly inside.
23. Slow Sex Finger Play
This water-based lubricant was specially developed for fingering: It is highly moisturising, has a sensual coconut scent and won't stain your bed linen.
24. Womanizer Mini
With the mini lay-on vibrator, you can enjoy Womanizer stimulation at three levels of intensity, in a handy size that's also ideal for travelling.
Conclusion on the Classic 2022
The Amorana Classic Advent Calendar is a coherent package that covers various sex preferences and is definitely worthwhile. The Classic gives you an introduction to sex toys and helps you get to know your body and turn-ons better. Whether you're into gentle or rough BDSM sex, you're sure to find surprises that will get you hot and bothered – whether alone or as a couple.
Contents of the Amorana Advent Calendar Premium 2022
1. Womanizer Classic 2 + Secrets
The Womanizer is rightly called the ultimate clitoral vibrator because it can bring you to climax at lightning speed. It surrounds the clitoris and pampers it almost silently with gentle pulsation and suction.
2. Magic Baby
Massage sticks work great against sore muscles and tension: The Magic Wand not only vibrates you to orgasms, but also to complete relaxation. Best of all, it's small, handy and even on the lowest setting you'll feel the stimulation.
3. Aura
This U-shaped couples' vibrator takes your sex to a new level: the narrow part is inserted into the vagina, the other end rests on the clitoris – so you can enjoy intense vibrations and your partner has a tighter feeling during penetration. With 3 vibration speeds and 7 vibration rhythms, you can find out what sends you on a flight of fancy.
Conclusion on the Premium 2022
With the Amorana Advent Calendar Premium, you get 29 gifts in your bedroom that take you through the whole world of sexual practices. Not only will you do something good for yourself, but you can also discover your lust in a whole new way, even if you're already experienced – with top toys, among other things, for which the calendar is especially worthwhile.
Contents of the Amorana Advent Calendar Deluxe 2022
1. Lost In You
If you're already a pro at using Kegel balls, then this version is the next level: you can intensify your pelvic floor workout with the precious metal balls.
2. Ignite
This masturbator makes your solo sessions even more satisfying: with 17 vibration modes and 3 different intensities, you can let yourself be stimulated. The silicone is smooth to the touch and the Ignite is intuitive to use, so you can sit back and relax.
3. Womanizer Premium 2 + Secrets
The Womanizer Premium massages your clitoris with pulsating pressure waves and is the only womanizer with a very special function: in autopilot mode you don't have to think about anything and the toy takes over – let yourself be surprised...
Conclusion on the Deluxe 2022
With this advent calendar you can treat yourself to the deluxe version. This means you can unwrap 32 gifts, including the crème de la crème of sex toys and luxury versions of gadgets – ideal conditions for discovering new preferences with the noble surprises.