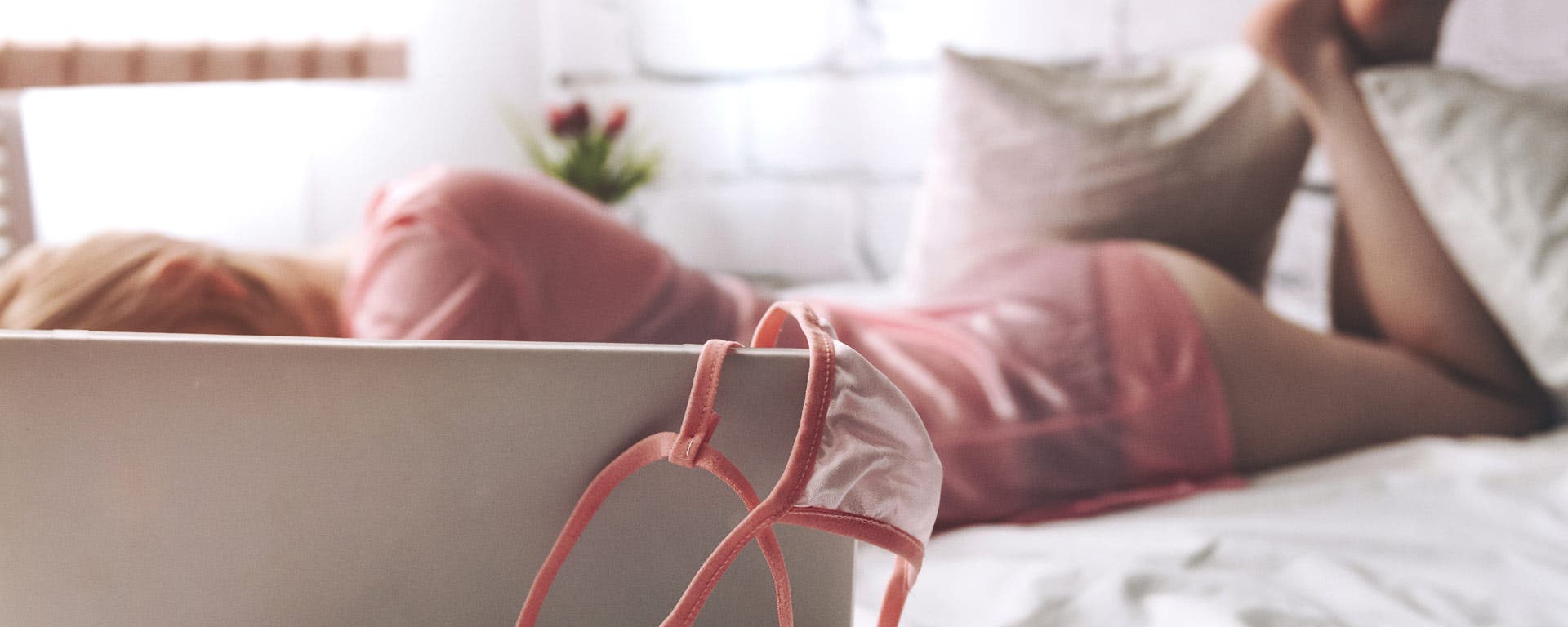 Long-distance relationship - how to have sex despite distance
When you and your sweetheart are separated by a long distance, the cell phone becomes essential for sharing everyday life. But what about your sex life? As a couple, it's not that easy to share intimate moments and create intimacy over long distances.
But there's good news - long-distance sex really does work: Want remote-controlled orgasms? Here are five tips for maintaining sexuality in a long-distance relationship, and we reveal how sex toys for couples can help.
Stay close
Emotional closeness is one of the most important aspects of a healthy relationship. When you live in separate places, it's therefore even more important to create shared rituals that nurture and strengthen that bond. Whether it's a dinner date over Facetime or Skype, or simply a long conversation before bed, consciously make time for each other and talk about your needs; this will keep you emotionally close as a couple.
To make sure that your quality time doesn't get lost in the daily routine, it can also help if you arrange fixed dates with each other in addition to spontaneous dates (how about a Netflix evening on the first Friday of every month, for example?). Maybe you'll feel like talking about your sexuality and fantasies and exploring together what brings you pleasure through a toy - more on this in the next point.
Sex despite long-distance relationship
Feeling physically close at a distance is a challenge. But it can also mean that you develop your sexuality, get creative and discover new passions together. Sexting is not enough, you want more? Remote sex toys make your life more beautiful, because they are ideal for couples who live in separate places.
Imagine letting your partner take control of your orgasm while you sit back completely: That's the beauty of couples toys that can be controlled remotely. Sounds good, but you don't know where to start? Here's all the info you need to get started, and we'll introduce you to four couples sex toys you'll want to try right away.
How do long-distance sex toys work?
Whether you're from another city or another continent, remote-controlled toys allow you to enjoy your togetherness from anywhere and be (at least felt) close to each other. All you need besides the toy with the respective app is an Internet connection and two smartphones or tablets.
Many sex toys for couples connect to your smartphone via Bluetooth and can be controlled via an app. Depending on the app, you can also use a live chat or camera mode and see in real time what the toy triggers in your sweetheart.
How can sex toys be integrated into a long-distance relationship?
To get started, it's important to talk things over! Toys can be intimidating - but if you talk about your preferences and see what interests you together, this nervousness will quickly fade and you can start the adventure together in a relaxed way. Explore what brings you pleasure and experiment with which sex toy might fit, when and how intense the stimulation should be and how long the climax is delayed. There are endless ways to indulge - find out what gives you the hottest thrill in your sexuality.
Be brave in trying things out! After all, toys not only provide new stimuli for sex together, but they should also enhance your intimacy by letting you have fun together, laugh at mishaps, and explore something new together.
Toys for long distance relationships
The couple vibrator: We-Vibe Chorus
The waterproof We-Vibe Chorus couples vibrator lets you live out your passion even when you're not together. It can be intuitively controlled via handshake using the remote control or remotely via the app.
The We-Vibe Chorus massages your G-spot and clitoris. If you use the toy together with your partner, his penis will be additionally stimulated by the vibrations.
The penis ring: We-Vibe Verge
The Verge penis ring wraps around the penis and testicles and can bring about an ecstatic climax through its vibrations. The ring brings fun alone, your sweetheart can control the toy remotely via the app from all over the world and surprise you with different vibration strengths - or the Verge is worn during sex together and intensifies the feeling so for both.
As a tip, it's worth trying out the Beat mode. Here, the vibrations of the toy can be adapted to a music playlist, or even to the sounds in the environment. So you could put your partner on speakerphone while on the phone and be stimulated appropriately....
The Vibro Egg: Lovense Lush 3
The Lush 3 Vibro Egg delivers exciting intimacy in long-distance relationships. It's waterproof, stimulates the G-spot, and works in separate rooms, but also when you're on opposite ends of the world thanks to the app.
Especially hot: In the app, the Lush 3's vibrations can be customized to a song. Go through your favorite tracks together, create a playlist and find the track that brings you to the most explosive climax.
The lay-on vibrator: We-Vibe Moxie
The We-Vibe Moxie is a lay-on vibrator and spoils you clitorally with 10 different modes. It is waterproof and can be operated via Bluetooth or remote control - for long-distance relationships, the control through the app is ideal, because it works from all over the world.
Exciting about Moxie: The toy has a small magnet, so it can also be attached in your underwear and you can experience intense moments with Moxie on the go.
Here's what to consider
If you want to make the experience with your couples toy even smoother, you can use a water-based lubricant that is compatible with the toy's silicone surface.
It's best to clean the toy after each use with mild soap and warm water or with a toy cleaner. This way everything stays hygienic and you can enjoy your toy for a long time.
Tip 3: See you soon
As nice as it is to pamper each other with couple toys while you can't meet: Uncertainty can be a real test of nerves in a long-distance relationship.
So it's best to arrange fixed times early enough when you'll see each other in real life. This will boost your anticipation, give you an extra dose of excitement, and at the same time give you the security of knowing that you won't have to miss your sweetheart for an indefinite period of time.
Tip 4: Do away with expectations
In long-distance relationships, expectations are very high for the little time you spend together. It is unlikely that the reality will correspond exactly to this perfect picture. The same applies to your sex life: don't put pressure on yourself to make everything as phenomenal as you imagined. This creates stress and the sex can no longer be relaxed.
Rather, enjoy your time together and let each other in, then everything will happen by itself and you can experience really good, passionate sex together.
Tip 5: Change perspective
Distance sucks! Long-distance relationships aren't easy, but at this point we'll keep it in mind: They can also have their advantages. The anticipation of meeting your sweetheart boosts your passion for each other. And what could be better than being able to hug and be close to each other again after weeks?
Besides, the distance creates more space for me-time. You can do good things for yourself without having to coordinate with your partner, so you gain a bit of free space. Time alone can be valuable and empowering for your own development, you remain independent - but know that you can count on your treasure when it matters. Win-win!